French company NAWA Technologies has unveiled the first fully rideable prototype. It's a zero-emission electric motorbike. The NAWA Racer is powered by the pioneering hybrid system. It combines carbon-based ultracapacitors with a conventional Lithium-ion battery. The concept of the bike was first revealed at CES 2020.
NAWA developed the motorbike's shape with the cooperation of a UK engineering company. The design is inspired by the classic 1960s cafe racers but appeared in a modern look. Its retro-modern look is achieved through the lightweight composite panels, painted aluminum and copper. They are based on a strong but light carbon-fiber frame.
Features And Benefits:
The motorbike is lightweight, urban-friendly and powerful. It is light- 150 kg – because of its compact hybrid battery and carbon frame.
The motorbike's nimbleness has positive effects on its speed, agility and range. It's worth mentioning that the motorcycle's hybrid battery system can be applied to any type of electric car.
The bike is suitable for city commutes since in city driving, range can increase up to 186 miles thanks to superior regenerative braking. On the power of the Racer we can refer to NAWA's next-gen ultracapacitors, also called NAWACap, that offer ten times more power and five times more energy than common ultracapacitors. The powerful storage of electrical energy offers faster rates of recharging. NAWA says the ultracapacitor battery pack recharges only in two minutes, while the Lithium-ion pack can charge up to 80 percent in one hour. A noticeable feature of the motorcycle is the split battery positioning that paves the way for removing and swapping the NAWACap pack with ease.
Other features of this fantastic motorcycle consist of LED lighting for the headlight and taillight, anodized matt black suspension forks, nubuck leather saddle in vintage and a hub-less rim motor. The hub-less rim motor of NAWA Racer produces 100 hp, accelerating to 62 mph in less than 3 seconds. It has advantages like faster acceleration and torque.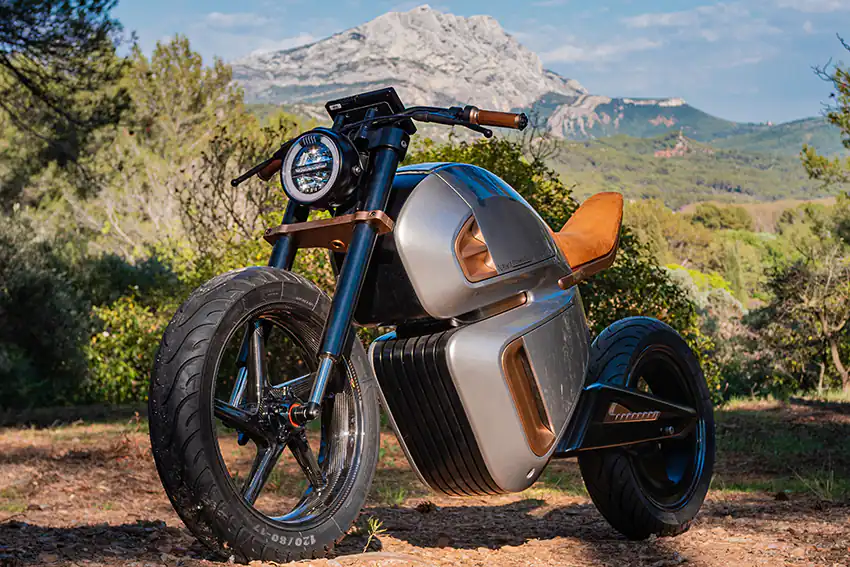 Integration, Measurement & Simulation, Design, Battery Testing
The e-motorbike prototype features electronic integration by Pronergy and Faar. Pronergy has been the lead developer of the electric switchboard between the batteries and the NAWACap. Faar's role in NAWA Racer project has been the design of the dashboard and all electrical systems. The assembly of the batteries and BMS inside the bike was also another part of its responsibilities. Faar has also been in charge of the wiring of the whole electrical architecture. Simulation, design and realization were conducted by AKKA Technologies.
Battery tests, meanwhile, were performed by YSY Group. It checked safety and temperature conditions, as well as cycling of each NAWACap cell. No information yet on the mass production of the motorbike. But the high-tech has opened up new horizons in the field.